I've had the very great pleasure of being cooked for this last week or so, and when you are eating out for literally every meal of every day, you come to notice when food is seasonal, homemade and locally grown. I'm constantly encouraged by the number of restaurants I find around the world that are working so very hard to use local and seasonal produce, and to ensure that everything that comes out of their kitchen is made from scratch. Of course, there are plenty of places where that doesn't happen, but I would struggle to name any of them amongst the places we ate over the last week or so. I have nothing but praise for the restaurants and chefs we came across in Northern California, and the wonderful farmer's markets we visited make me even more determined to stay somewhere that I can cook from scratch myself next time!
Food from the heath to feed your soul. The food of memory, the food of comfort, the food of joy. Welcome to the Hearth and Soul Blog Hop, born of our beliefs that food is not only meant to nourish our bodies, but also our souls.
To read our full mission statement, and the rules for linking, please click here.
It is very important that you please remember to link to your article only and not directly to your blog, and that you link back to one of the co-hosts somewhere in your actual post.
This is the code for the Hearth and Soul Blog Hop badge. Please copy and paste it into the bottom of your blog post. Just highlight the HTML code and right click to copy it. You can then paste it into your blog posts, or put it in your sidebar. Or you can choose to simply place a text link back to the Hearth and Soul Blog Hop at one of the host sites. Come on, share with us what you've got cooking in your kitchen!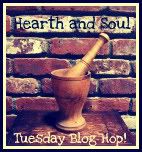 Please email me at april@21stcenturyhousewife.com if you have any questions or suggestions.
Thank you from all of us on The Hearth and Soul Blog Hop Team!
April of 21st Century Housewife
Alea of Premeditated Leftovers
Jason at Alternative Health and Nutrition
Kankana of Sunshine and Smile
Melynda of Mom's Sunday Cafe