Hello and welcome to the Hearth and Soul Blog Hop! The Hearth and Soul Hop was born of our beliefs that food is not meant to only nourish our bodies, it also nourishes our souls.
To read our full mission statement, and the rules for linking, please click here.
It is very important that you please remember to link to your article only and not directly to your blog front page, and that you link back to one of the co-hosts somewhere in your actual post.
This is the code for the Hearth and Soul Blog Hop badge. Please copy and paste it into the bottom of your blog post. Just highlight the HTML code and right click to copy it. You can then paste it into your blog posts, or put it in your sidebar. Alternatively, you can choose to simply place a text link back to the Hearth and Soul Blog Hop at one of the host sites.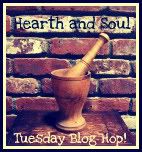 Please email me at april@21stcenturyhousewife.com if you have any questions or suggestions.
Thank you from all of us on The Hearth and Soul Blog Hop Team!
April of 21st Century Housewife
Christy at Frugality and Crunchiness with Christy
Jason at Alternative Health and Nutrition
Alea of Premeditated Leftovers
Swathi of Zesty South Indian Kitchen