I'm in California at the moment enjoying, among other things, some amazing food and drink. We visit here two or three times a year, and I am consistently impressed by the quality of so much of the food, from producer to consumer. Unlike days gone by, most chefs, hotels and waiting staff are totally knowledgeable about where the food they are serving comes from, using trusted ethical farmers and producers and wherever possible, local and even organically grown produce. And when you start with quality like that, innovative modern cuisine can only be outstanding. It's what it is all about, and it is some of what we want to share here at the Hearth and Soul Blog Hop. Fresh, seasonal, local and delicious homemade food, prepared with love and care. Food from the heath to feed your soul. The food of memory, the food of comfort, the food of joy. Welcome to the Hearth and Soul Blog Hop, born of our beliefs that food is not only meant to nourish our bodies, but also our souls.
To read our full mission statement, and the rules for linking, please click here.
It is very important that you please remember to link to your article only and not directly to your blog, and that you link back to one of the co-hosts somewhere in your actual post.
This is the code for the Hearth and Soul Blog Hop badge. Please copy and paste it into the bottom of your blog post. Just highlight the HTML code and right click to copy it. You can then paste it into your blog posts, or put it in your sidebar. Or you can choose to simply place a text link back to the Hearth and Soul Blog Hop at one of the host sites.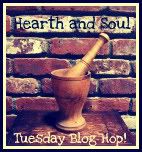 Please email me at april@21stcenturyhousewife.com if you have any questions or suggestions.
Thank you from all of us on The Hearth and Soul Blog Hop Team!
April of 21st Century Housewife
Alea of Premeditated Leftovers
Jason at Alternative Health and Nutrition
Melynda of Mom's Sunday Cafe